INTERNATIONAL ENCOUNTER. VIENNA. Spring 2017.
Community cultural development and social inclusion.
THE VALUE OF BEING DIFFERENT // DER WERT ANDERS ZU SEIN //EL VALOR DE SER DIFERENTE
First Step: THE VIENNA SOCIAL TOUR 11th – 15th of July 2016. 
PROGRAM of the VIENNA SOCIAL TOUR. 11.-15. July 2016.

Our PART(ner)S are People from: ARTKOLÈ ; M.U.T. ; TdU Wien ; Foodsharing Wien ; LOK ; Amerlinghaus ; Gartenpolylog ; Bajando al Sur ; Lebendewerkstatt Wien… and more!
Team Work – Cooperative group process –

Internal meeting of the promoter group.
Vienna Social Tour – The best way to visit and live the City of Vienna!

Everyday by bike – RadRouten Projekt from Artkolè: We will visit Vienna through the social projects already working in Vienna. (Program of the Tour «in progress»)

Community Events – Open Evenings –

Tuesday, 12.07 – 20:oo – Kino-Forum at WUK – «Augusto Boal and Theater of the Oppressed» (OV Portuguese. English subtitles). Forum moderated by Artkolè Verein and TdU Wien.
Wednesday, 13.07 – 20:00 – Kino-Forum at DasLOKal – «El método Arrieta» (OV Spanish. English subtitles). Forum with Mentxu Arrieta (on-line) and Maria Schernthaner (LOK Verein)
We are working within a collective cooperative process: Everyone contributes, every contribution is valid for the process.
A sustainable process based on Exchange: We use our own collective resources, we create together what we need, we reduce costs.
Self-funded, self-organized and self-managed project.
If you want to Be PART(ner) of it, CONTACT US
WE DREAM OF…
…being part of an inclusive community. We consider this encounter as the open doors for a sustainable Learning Community established in Vienna. Within the ARTKOLÈ Association we are building the 2­-years­-project in Vienna "Utopie 2016. Learning Community".
The puzzle parts come together. We would like to open a common space for an international encounter where we can share our stories and our creative process experiences. We can exchange our artistic tools and we can learn together into the community.
Biographical stories: alive/online talks, about how an artistic project has had a fundamental role in his/her own social 

inclusion

 process.
Artistic tools supporting 

inclusion

: workshops with different intervention and community action methodologies towards 

inclusion

.
Collective Creative Processes/ Community Actions/ environment performances.
The main interest of this encounter is to promote the community environment for access and active participation into the daily social­ life of everyone. Open the common space of coexistence and inclusive learning in the city of Vienna.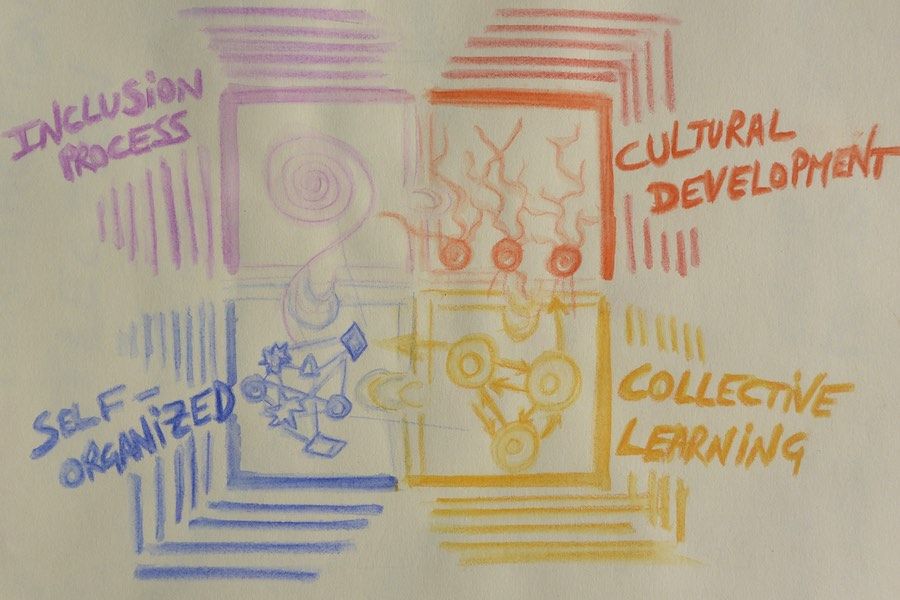 We are already walking!!! If you want to join us, you are wellcome!!!

Self-funded, self-organized and self-managed project.